A Joshua Tree at Joshua Tree National Park
This is part I of a three part series detailing my photo excursions during my recent Spring Break. I was fortunate to photograph three locations over my break: 1) Joshua Tree National Park, 2) Gold Digging in the Mojave Desert, and the 3) Rock Crawling Competition in Johnson Valley.
Please click on any picture to see a larger version
Originally, before my Spring Break began, I had planned to visit Yosemite with the photo group
Shoot The Planet
. When that didn't work out, I decided to grab a few of my buddies and head out for a more local(so to say) photo trip. I researched many locations within a 3-hour drive as this was going to be a one day trip. On the list of ideas was the San Bernardino Mountains, including the abandoned Calico mine north of there, San Diego, and Joshua Tree National Park. As most of us had not been to Joshua Tree National Park and after reviewing the landscape and others' pictures, I made the decision to go there.
We(Myself, Adrian, Nate, and Mike) all met up on March 27th, 2008 at 6AM-ish and headed out toward Joshua Tree National Park. On our way, as we stopped in Indio, we noticed this traffic light, which we thought was humorous. I guess they don't replace things in Indio. Duct Tape works just fine!
Creative repairing techniques in Indio, CA
Joshua Tree National Park Map
Upon entering the park, we stopped at the Visitor's center to obtain a map and to inquire about the interesting spots in the park.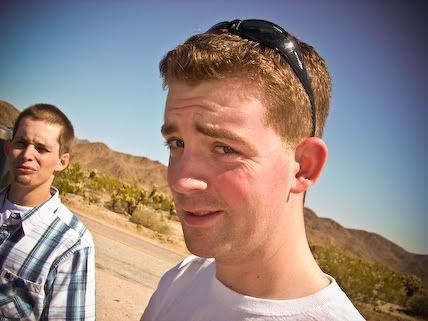 Myself and Adrian
Photo Courtesy of Melowise
I was told that the Cactus field along the main road was the first real interesting spot, so we headed that way.
We arrived at the Cactus field(#1 on the map) and decided to take a group picture.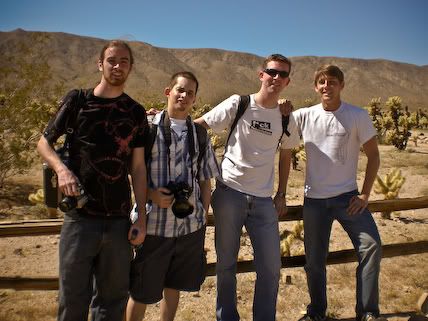 From left to right: Mike Kerwin, Myself, Adrian McKinsey, and Nate Wise
Photo Courtesy of Adrian McKinsey
After knocking that out, we ventured into the cactus field.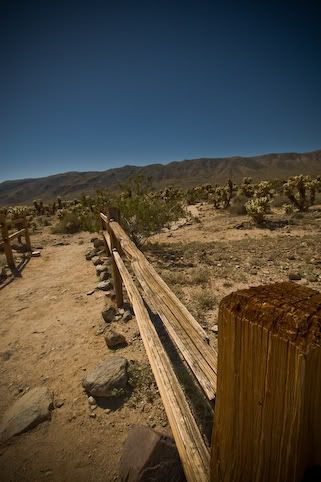 Path leading into the cactus field
I, being the adventurer that I am, decided to wander off the path and through the cactus field to get a few interesting shots.
Cactus
Big Mistake!
I should have listened to Adrian as two minutes before, he warned me not to go off the path because it would be very painful to be stung by a cactus! I quickly learned this lesson the hard way!
Adrian laughing at my stupidity and then helping me
remove the cactus from my leg
After this not so fun experience I was determined to stick to the paths, but I could not help myself, and decided to get some more shots off the path, this time walking
very
cautiously and looking exactly where I stepped. Here are some shots I got: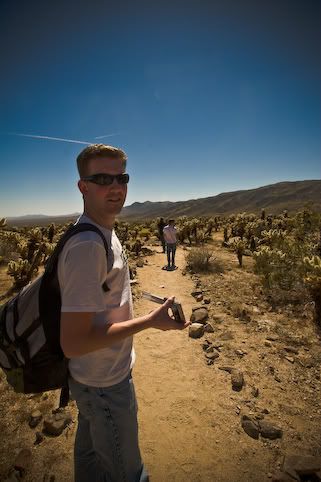 Adrian posing as Nate and Mike walk on
Cacti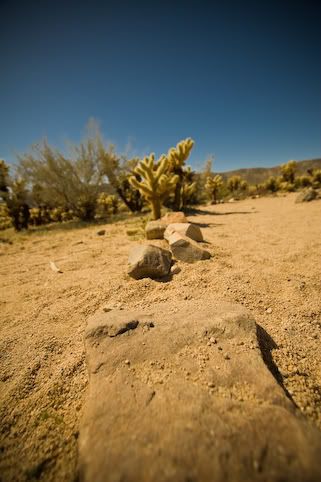 More Cacti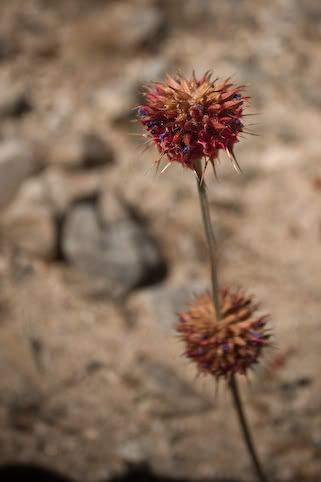 Some sort of Desert Wildflower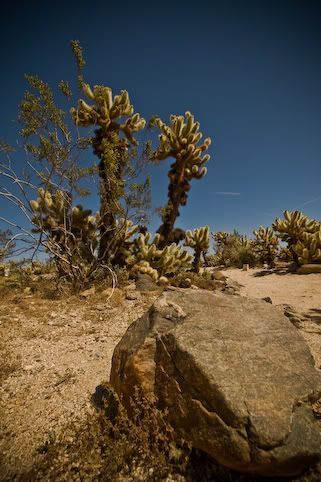 Again some Cacti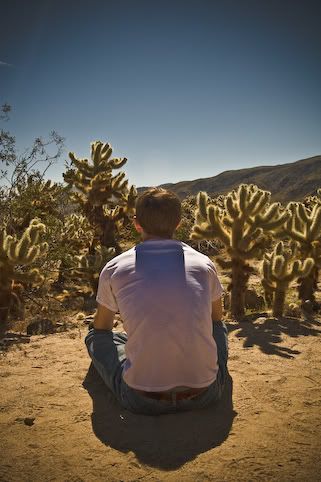 Nate meditating in the cactus field
(At least that's what it looked like)
After carefully walking back out of the cactus field, we decided to move on. Our plan was simply to keep driving along the main road until we saw something interesting worth taking pictures of. We quickly came upon a huge formation of rocks called
White Tank
(#2 on the map). We spent most of our time at this area, climbing the rocks and shooting away.
Some creative editing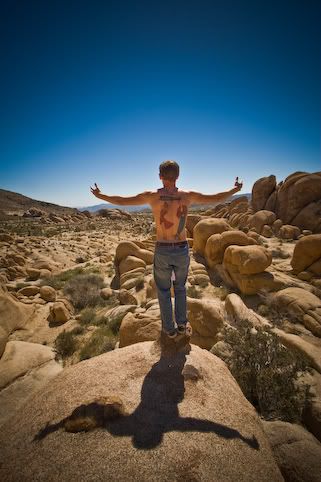 Nate posing on a rock
Many Rocks
Nate, Mike, and Adrian pose for me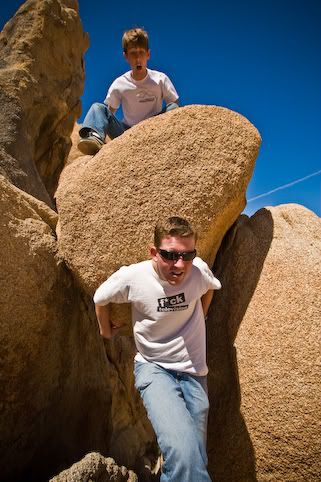 Adrian holding up a boulder that Nate is sitting on
(What can I say? He has superhuman strength!)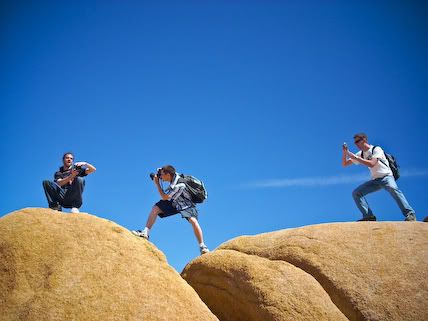 Photographers being silly!
(Nate took this picture while Adrian was taking a picture of me taking a picture of Mike who was taking a picture of Nate. Did you catch all that?)
Photo Courtesy of Melowise
Here is what resulted from our experiment above: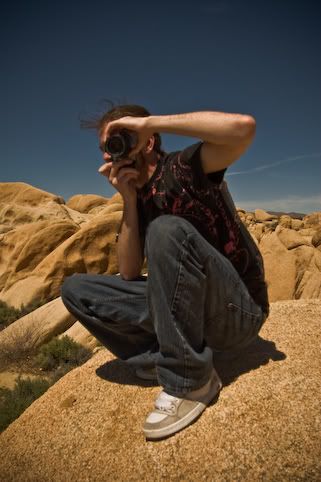 Mike taking pictures
After shooting some shots around the base of the rocks, we decided to climb to the highest point we could find. This was quite a challenge, especially with backpacks on, but we made it.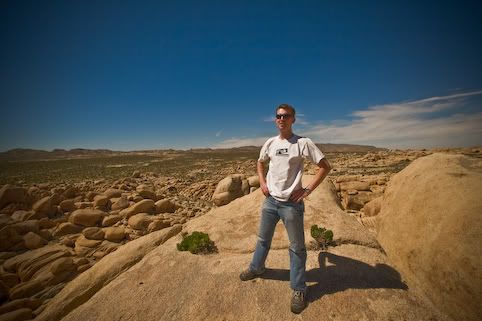 Adrian on top of the world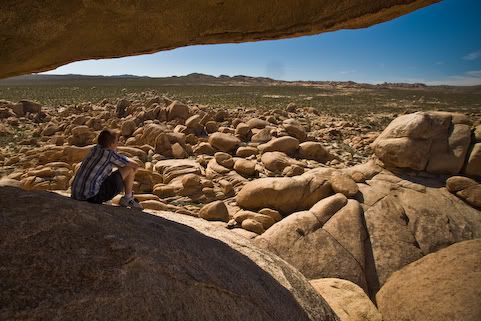 Me enjoying the view
Me doing my magic
Photo Courtesy of Melowise
Here are a few more pictures I shot as we headed back to the car:
These lines of rocks are all over the place.
I think it has something to do with the earth plates shifting over time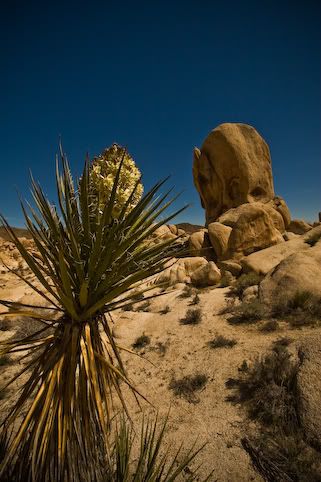 Desert Plant
We left White Tank and headed further down the road to Barker Dam(#3 on the map). Here are the shots I got there:
Barker Dam area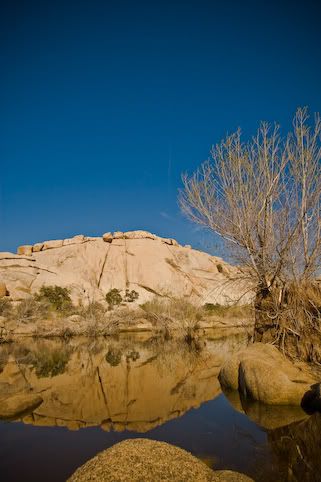 Barker Dam area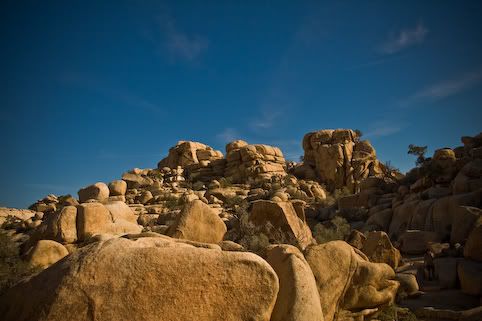 Barker Dam area
Barker Dam area
We left Joshua Tree National Park after a long day of shooting and climbing. I was exhausted and I have no idea how Mike still had the energy to drive the long way home. Props to him!
Nate and Adrian exhausted after a long day of fun