WARNING WARNING WARNING!!! This is a special extended blog and is unusually long. While processing my photos, I came to like many of my photos and I want to share many of them with you. Therefore I just want to warn you ahead of time that this will be a long flight, so maybe go get a cup of coffee cause this one could take a while!
I found out a few months ago that my parents were going to be visiting my little brother in Los Angeles, and since I live nearby, they were going to come see me too. The plan was that I was going to meet them at my brother's college, LMU (Loyola Marymount University), and then they would spend the night at my house.
I woke up on Saturday February 16 and took off to meet my parents at LMU. We met up at breakfast on campus and I ofcourse had to get a few shots.
Keep in mind that ALL of the pictures you see were taken with a Wide-Angle lens, so they might be a bit goofy and stretched, but I felt like experimenting with it and I didn't feel like bringing an extra lens just to hang out with the folks.
These are a few shots of the building where the breakfast was held. My brother told me it was once supposed to be a mall, and that's why there are trees inside, but it was bought by Hughes Aviation as an office building until a few years ago when it was bought by the University and is now being used as administration building. A little side that I thought was humorous is something else my brother told me about that building. He said that the President of the School who is a Jesuit Priest and is usually in a very humble surroundings, has a very big, modern, luxurious office in the building. We thought it was funny to think of a priest with his legs kicked up on the big oak desk in a nice, decked out office!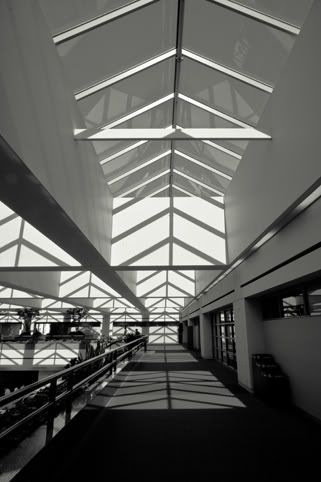 We finished our breakfast and began our excursion. My little(younger, as he's actually quite a bit taller than me) brother was already adequately embarrassed by the time we were done with breakfast due to loud talking between the Seckler family during a boring speech given by University officials. He had no clue that the embarrassment was just beginning.
As we left the hall where the breakfast was served, I began my shooting spree! I scanned for potential targets and then I found some. I aimed toward my Dad and little brother and squeezed the...shutter-release button:
We left University Hall(#1) and started to head toward the main part of campus. Here is a map of the campus so you can follow along in our travels. Just click on it to see a larger, more clear version. I have numbered each stop on our trip so that you have an idea where we are at.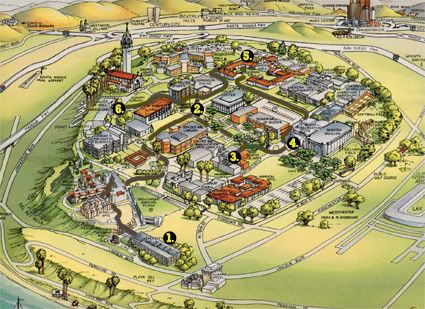 Click on Map for larger version.
As we made our way toward the Theater to watch a show, I encircled my family like a solo gang of paparrazi. Remember that I said I only had a wide angle lens, right? In order to get some of the shots I got, I had to move in very closely to my subject, so imagine a family walking across campus and some weird guy with a big camera is all up in their face trying to get good pictures. I didn't care though, It paid off!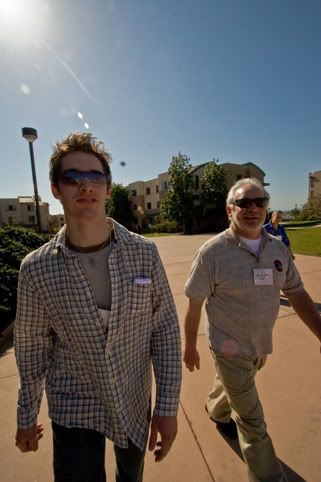 I tried to take a picture of my mom and I, but I was very paranoid about holding my SLR with only one hand trying to get a shot when I had no idea what the composition looked like. Anyways, here's the result: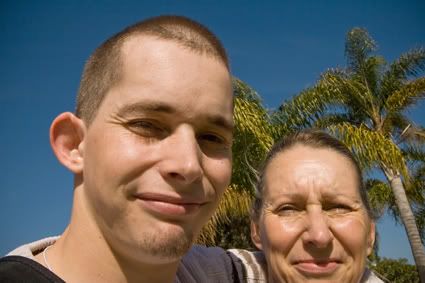 We arrived at the Theater.
This was nearby. I understand the cross, but not the purple sash and why it was just standing around, but I liked the composition and feel the sash blowing around gives.
This was also nearby. This is a piece of the Berlin Wall as it obviously says on the sign.
We went inside and found out that there were no more tickets. As I was walking out of the building, I noticed the water fountains spraying straight upward and a man laying down in a perfect position. I was debating whether to creap up on him and take the shot, but just then he got up and left. I showed my brother what I saw and he posed the shot for me, which I think looked even better than other guy anyway. Here is the shot of him in that perfect position in front of the fountain:
My mom and brother got into a heavy discussion about some college stuff, so my dad found a nice little patch of grass and decided to lay down to take a load off!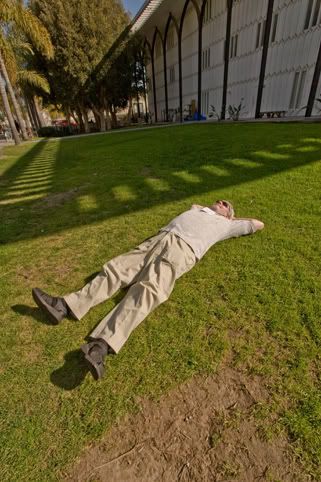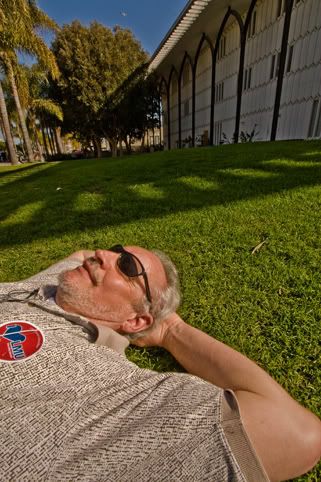 Since we were not able to watch the show, we decided to go to an art exhibit not far away. Here's a shot I took of my brother on the way there: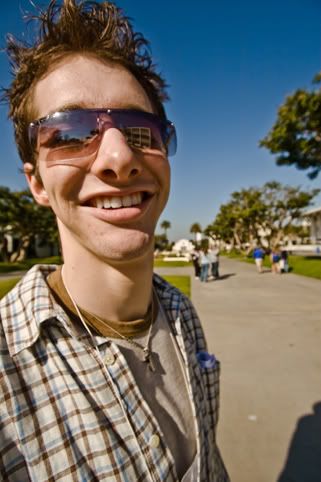 Unfortunately I was only able to take a few shots in the art gallery, and they turned out blurry. As we were leaving the art gallery, my little brother decided to follow in my father's footsteps and lay down in the middle of a little courtyard. I ofcourse had to document it.
Next on our stop was the Gym where my little brother, who is 19 years old, is a personal trainer. He holds the highest certification out of all the trainers there and I believe he's the youngest. That kid rocks! Here is a picture I shot of him in front of the building: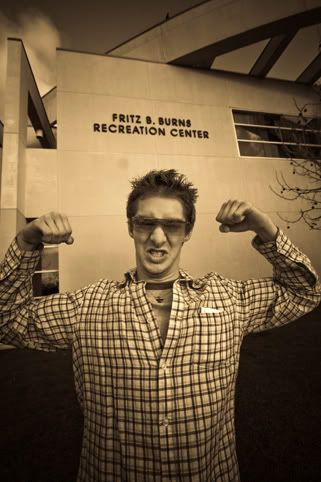 He gave us a tour of the building. Here are a few pictures I shot as we went around inside: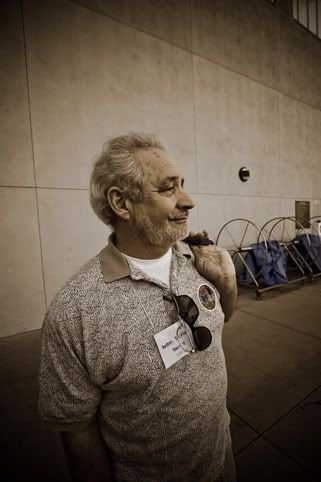 My dad at the Pool behind the Gym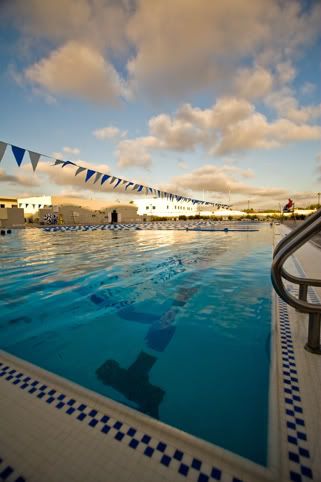 The Pool behind the Gym
After the tour, made our way to Andy's(My little brother's name) dorm room to check out his living situation. His roommate has a good cashflow from home, so he bought a 38" LCD Flatscreen TV and has it in the dorm room. Here are a few I shot in the hallway before we entered the room: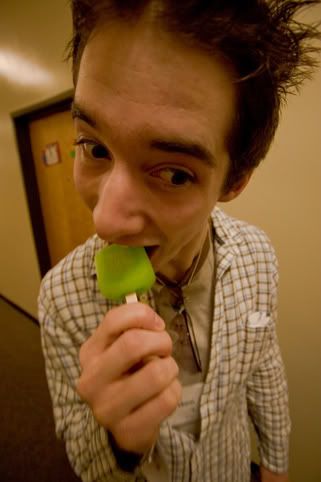 My brother decided to show my dad "Planet Earth" on the 38" LCD on Blue-Ray, so I figured it would be a little while. I went outside and continued to get some nice shots right outside his dorm hall: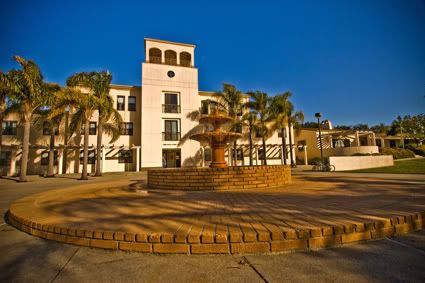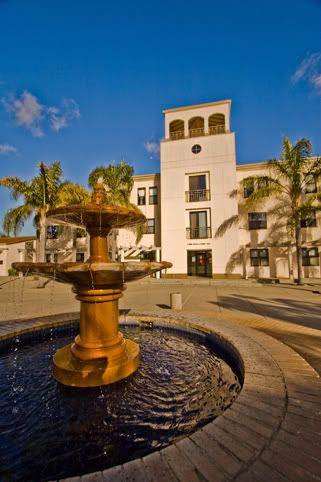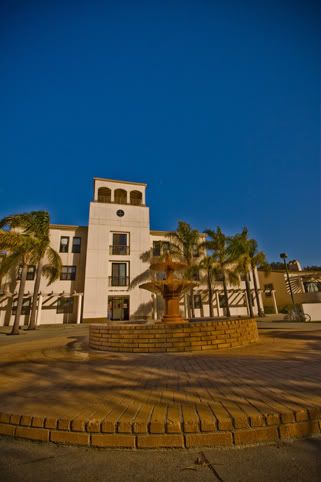 I walked back toward my brother's dorm hall when I decided to walk up to his window and peak in. He came to the window and opened it so I could lean in (The window was waist high). My mom came closer to the window to talk t o me and I took a shot of her. The light that was shining from behind me was really nice and so I decided to get everybody in the room to come to the window for an Xtreme closeup.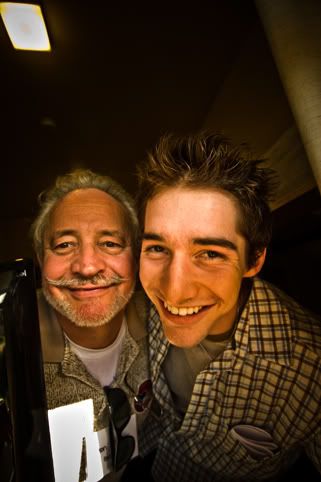 My brother's roommate walked in just then and I had to get a shot of him too, especially with the Xtra large sunglasses he was wearing.
After my photo shoot, the whole gang headed to the Admissions building where my brother was talking to some official people about official stuff, so I officially split and decided to go take some shots behind the church overlooking Los Angeles.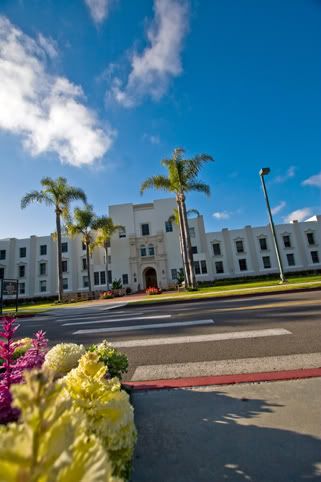 The Admissions Building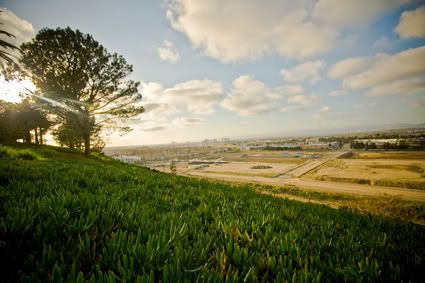 I decided to get a few shots of the church from the front also: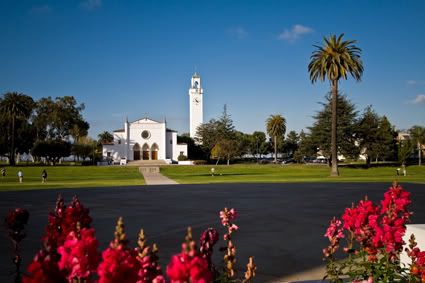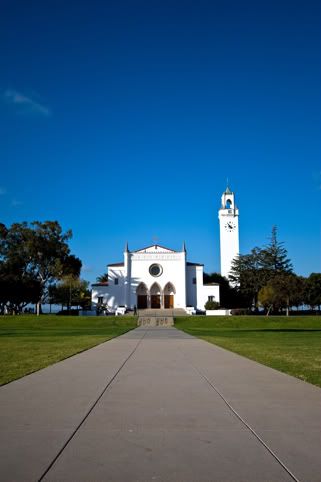 I met back up with my family as they exited the Admissions building and we discussed where we should eat dinner. During this discussion, my brother starts acting like his goofy self and doing weird poses for the camera. I made use of the situation and got a few funny pictures: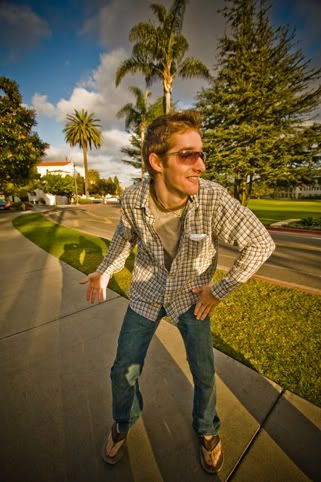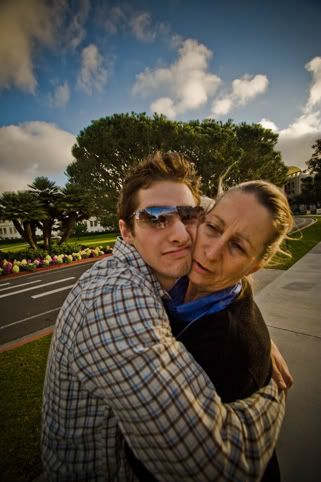 We decided on Italian Food, which was a good choice because the food was excellent! I headed home after dinner, after saying good-bye to my family.
They are a good family, but after looking through my pictures of that day, i realize they also double very nicely for models!