I had my first gig as a photographer on February 7, 2008. The job was to photograph an underground hip-hop show for the group "illodd" at "The Patio" in Anaheim. Although I did it as a favor for a friend, I still consider it a real photography job. Everything was the same, except for the cash. I gained invaluable experience in furthering me as a photographer.
All the pictures here are what I gave the group, so all of the pictures have the
illodd
watermark on them.
(NOTE: There is much compression in the pictures I just noticed that is most likely due to JPG conversion or because ning resized my pictures)
Here's the rundown of the night:
I was told that the show was to begin at 9pm and that the group I was there to photograph would be going on stage around 10pm or so. My friend, Kris Zalameda whom you all might know from the WDIM classes at AI, arrived at The Patio at 7:30pm and I met him there shortly thereafter.
Takbo(Kris) in front of the Patio Sign
Once I arrived, I went straight into observation mode scanning the exterior of the building for possible shots. I ran into the members of illodd, Takbo(Kris), Trash, and Verbs, in the parking lot.
Takbo(Kris) and Verbs
We went inside and illodd began their sound checks while I used the opportunity to test my camera and scope out possible interior shots.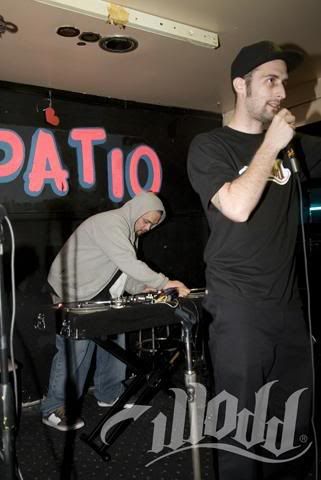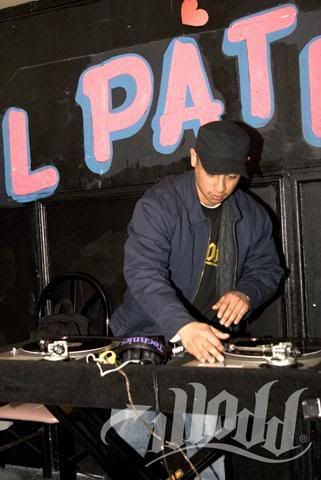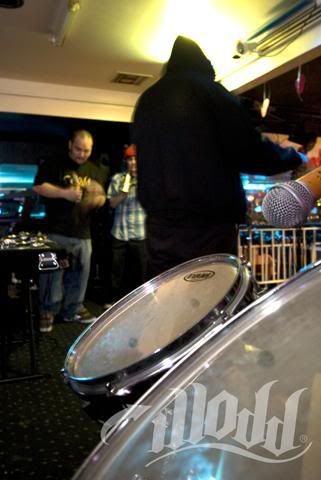 After the sound checks were done, we began to wait for the show to begin. The group went out for a cigarette break and I followed. While outside, Takbo(Kris) was hounded by adoring fans begging for autographs. The group also used this break in time to film a series of interviews that will be edited together for their band DVD.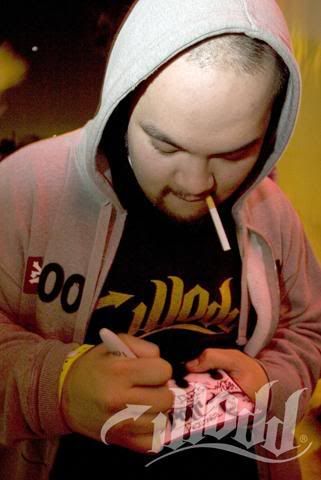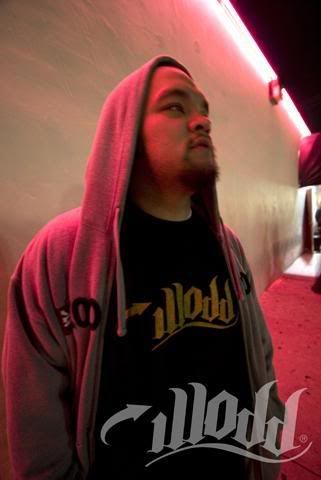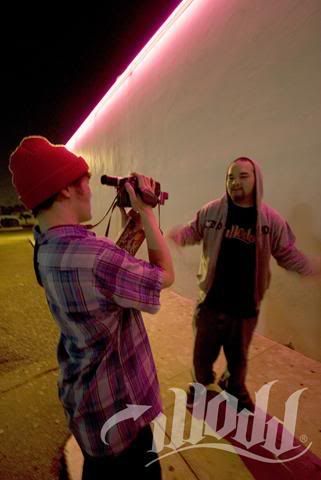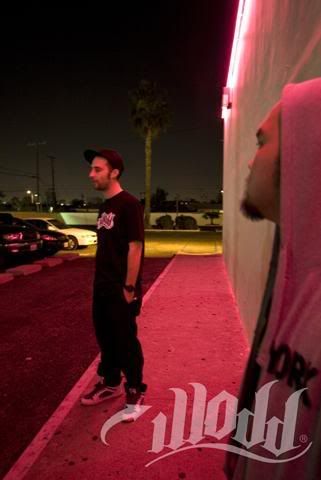 We waited for about an hour when people started to arrive and fill up the venue.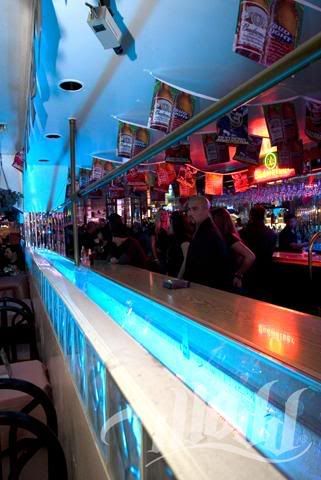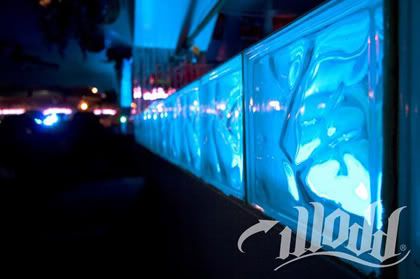 Two groups opened and then it was time for illodd to do their thing. I planned to have my wide-angle lens on and to take a whole bunch of crowd and over-the-shoulder shots from behind the group members. That was hard from the get-go, since I had to try and push my way through the crowd to get close enough to get the stage, but I pushed on.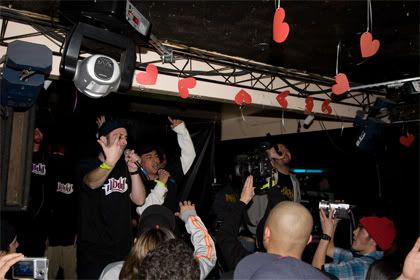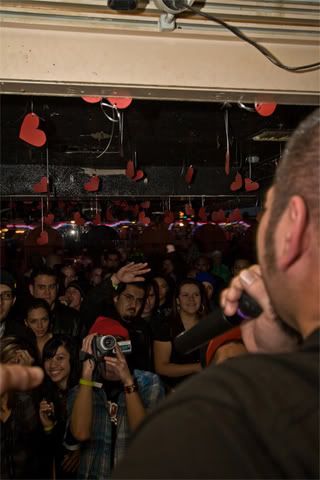 At some point I got sick of trying to fight to get a shot, so I decided to switch over to my 28-75mm lens in order to get some framed portrait style pictures. I ran to a side table and quickly switched out my lenses. As I was about to put my wide-angle lens back into my camera bag, I noticed that I had placed the lens directly into a little hill of refried beans somebody had left for me there. Luckily, I had the lens hood on and the lens wasn't damaged. I ran back toward the stage to get my portraits.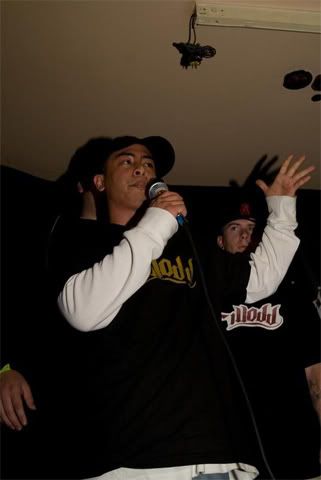 I switched back to my wide-angle lens and decided to get some trippy weird angle shots from the front of the stage. I fought my way to the front where I began to shoot away again. Every few seconds when I would identify or anticipate a move a member made, I would pop up and pretty much light it off in their face.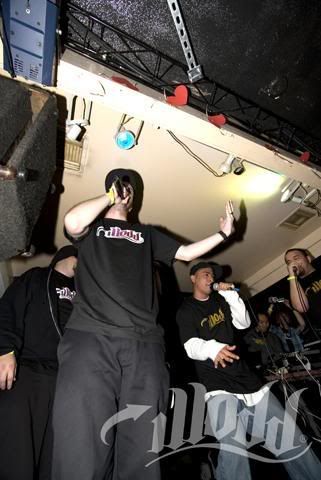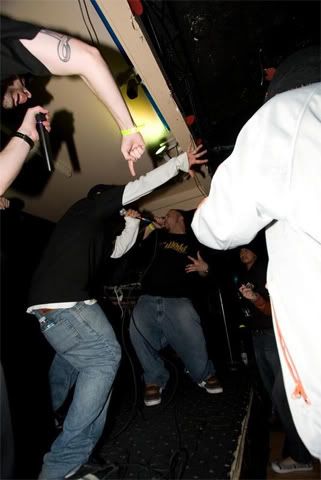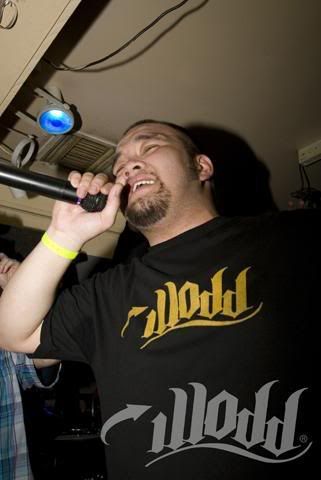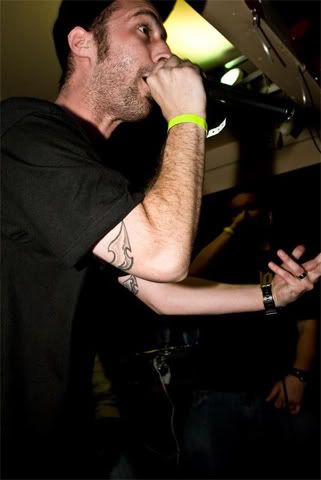 Trash.
All in all, it was a lot of work and I was super-paranoid about all my nice equipment, but it was also exciting and fun! I'm sure it beats photographing a wedding any day.
Below are a few more pictures that I couldn't fit in all nicely into my blog: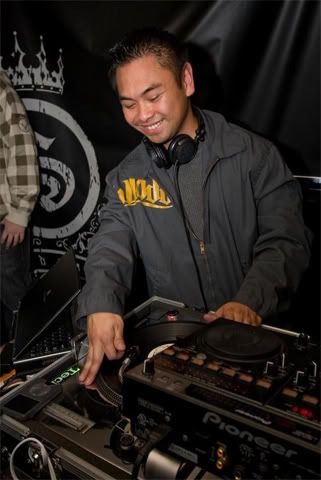 DJ Artistry (Guest DJ for the show)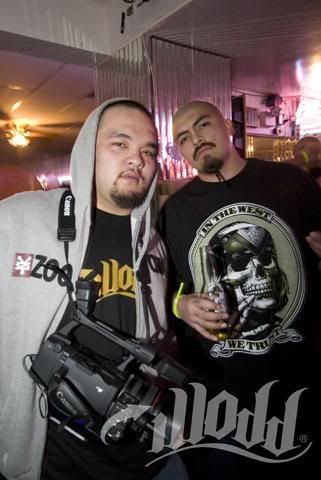 Takbo(Kris) and Sandmann(Heladio; He also goes to AI; He was the headliner)